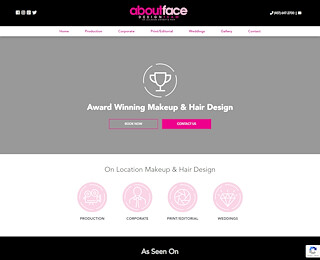 The world of hair and makeup is fascinating. A simple professional touch can make all the difference. You should consider hiring a professional hair and makeup artist, whether you're getting ready for your wedding or a big event. The best Orlando professional hair and makeup artist needs to have a keen eye for details and execute their services perfectly to the client's satisfaction.
At About Face Design Team, our talented professionals come with a wealth of experience. Their skills range from techniques that highlight and accentuate the best features to working with grace even under pressure. You'll also benefit from amazing looks and high-quality makeup to last throughout the event. 
Tips for Choosing A Professional Hair and Makeup Artist
Professional artists are differently skilled. Regardless of the event, you want to ensure that you choose the very best artists who can deliver. Here are a few tips to consider when looking a hair and makeup artist.
In this digital era, almost every service provider is online. It's advisable to go through their website to get an idea of the services they offer. You should check their online portfolio as well as reviews. Their social media pages can also help you assess whether they could be a perfect fit. Remember to find out whether they can cater to different needs, for instance, if you're allergic to some products, can they substitute them?
Professional artists will let you do a trial run to try out different ideas to find the perfect look. You need to be as honest as possible with your makeup artist to make sure you get what you need. Once the makeup and hair have been done, you should stand in different lightings to see how it will appear. If you need improvements or something different, don't hesitate to let the makeup artist know.
Ensure you're working with an artist who only uses quality products. You can look through professional reviews to see the feedback about the artist's products. If you have a preference, make sure the artist can use those particular products on you.
Hygiene and Sanitation Measures
If there's anything that has been top of the mind for almost everyone since COVID happened, it's hygiene. A professional makeup artist should not be any different. Due to the close contact nature of the profession, you want someone who observes the highest level of hygiene.
Always consider how much the artist is charging and your budget. If a makeup artist costs a lot, you might have to readjust your budget or keep looking. But before you find another artist, remember not to compromise the quality of work because of the amount charged. Besides, amateurs will cost way less than experienced artists.
Book Your Appointment Today
Whatever event you're having, makeup and hair need to match the occasion. A professional Orlando professional hair and makeup artist should be skilled enough to deliver the best results and make you camera ready. Contact us today on (407) 647-2700 for exceptional hair and makeup services.
Orlando Professional Hair and Makeup Artist
About Face Design Team
4076472700
601 S. New York Ave.
Winter Park
FL
32789
View Larger Map