Intriguing Hair Experience: Luxury Wig Popup at Martha's Vineyard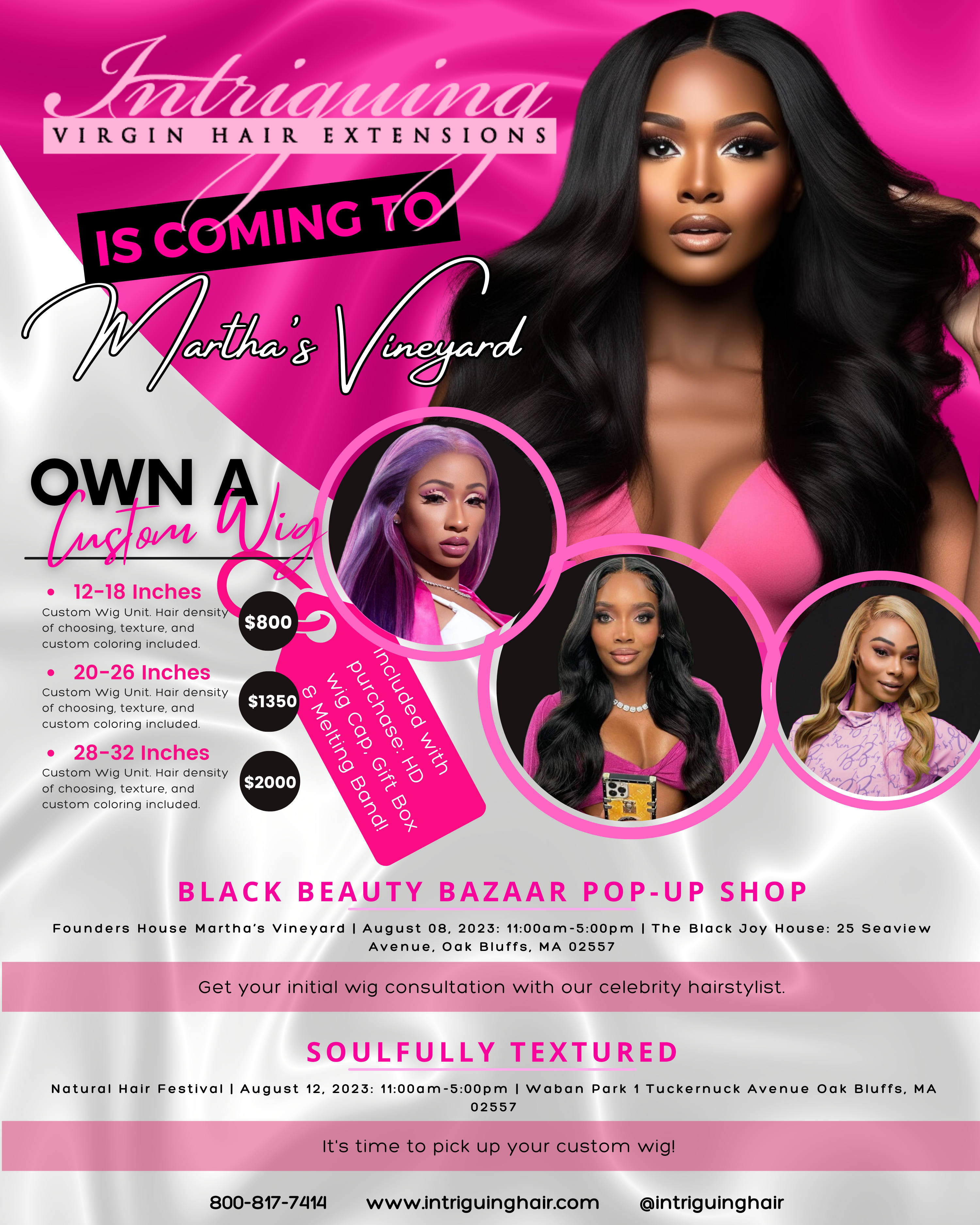 Have you ever desired a look that truly encapsulates your personal style? At Intriguing Hair, we understand that your hairstyle is a crucial aspect of your individual expression. This is why we ensure our esteemed clients are provided with nothing short of excellence.

Today, we're thrilled to present an extraordinary offer crafted specifically for our most discerning customers. You now have a rare chance to own a custom wig unit meticulously designed and brought to life by our in-house celebrity hairstylist, renowned for creating show-stopping looks for Hollywood's finest and various red carpet events.

As seen on:
Yandy Smith Love & Hip Hop
Diamond from Crime Mobb
Mimi Faust Love & Hip Hop
Jasmin Davis The Chi
Jhonni Blaze
Mya R&B Singer
Trina Rapper
This is more than a wig purchase; it's your ticket to an exclusive world of personalized luxury and unmatched craftsmanship.

Your transformative journey includes:
An initial consultation with our celebrity hairstylist on August 8, 2023, between 11:00 am and 5:00 pm at the Black Beauty Bazaar held at the Black Joy House. Here, you'll discuss your stylistic vision and preferences.
A bespoke wig unit, handcrafted from the most premium, ethically-sourced human hair, designed to fit you flawlessly.
A personal fitting and styling session, ensuring that your wig accentuates your unique features and personal style, scheduled for pickup at Soulfully Textured, the Natural Hair Festival at Waban Park, on August 12, 2023, between 11:00 am and 5:00 pm.
An elite maintenance and care package, specially designed to preserve the beauty and longevity of your custom wig unit.
Important Information:
This is a final sale; no refunds will be issued.
Receive $100 credit towards the purchase of items priced at $800, $1350, or $2000.
We accept Credit Card payments; please provide valid picture identification.
This is a unique opportunity to upgrade your style with a luxurious, custom wig unit created by a distinguished celebrity hairstylist. We welcome you to join an esteemed group of women who place a premium on top-tier hair design.

Due to the exclusivity of this offer and our stylist's limited availability, we encourage you to act swiftly. Our team is eager to provide you with unparalleled luxury and service.

To secure this remarkable offer, kindly respond to this email or call our customer service team at 800-817-7414 / 617-276-3337.

It's time to make your ultimate hair fantasy a reality!
Get a slot now. Click the Link below⬇️⬇️:
Intriguing Hair Experience: Luxury Wig Popup at Martha's Vineyard
GET YOUR CUSTOM WIG FROM US!
CLICK LINK BELOW:
https://intriguinghair.com/collections/wigs-2-0