Wigs and Hair Extensions for Special Occasions: Elevate Your Style for Weddings, Parties, and More!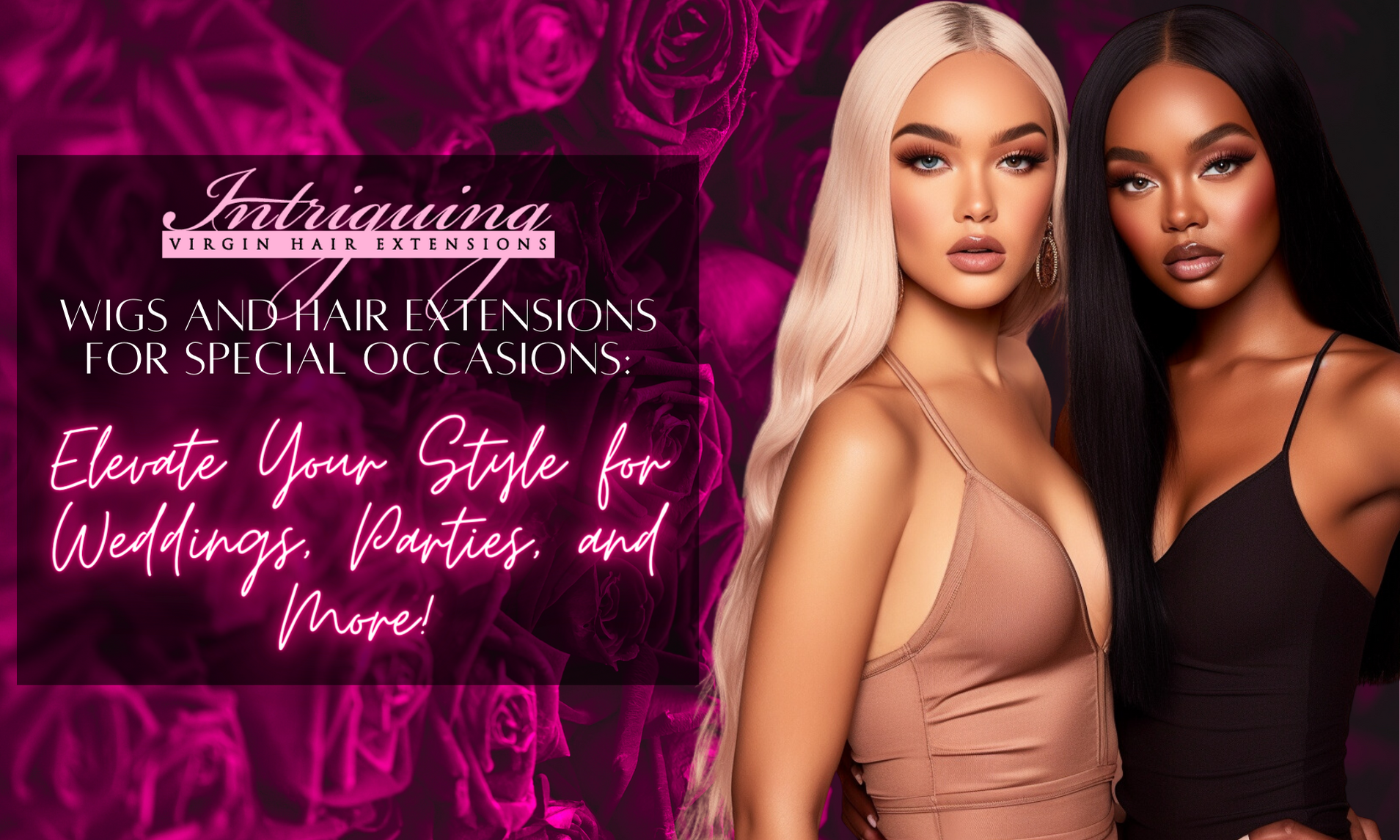 Special occasions call for special looks, and what better way to enhance your style than with wigs and hair extensions? Whether you're attending a wedding, a glamorous party, or any other noteworthy event, wigs and hair extensions offer endless possibilities to transform your hair and create a show-stopping appearance. In this blog, we will explore how wigs and hair extensions can elevate your style for special occasions, providing you with the versatility and confidence to shine at any event.
The Magic of Wigs and Hair Extensions:
Wigs and hair extensions have become increasingly popular in the world of fashion and beauty due to their ability to instantly change your hairstyle, length, volume, and color. These versatile hair accessories offer numerous benefits when it comes to preparing for special occasions, allowing you to experiment with different looks without committing to a permanent change.
Enhancing Your Wedding Look:
Your wedding day is one of the most significant events in your life, and you deserve to look and feel your best. Wigs and hair extensions can play a vital role in achieving your desired bridal look. Whether you dream of cascading curls, a sophisticated updo, or a boho-inspired braided hairstyle, hair extensions can provide the length and volume needed to achieve your vision. Additionally, wigs can be styled to match your desired hairstyle effortlessly, ensuring you have flawless locks throughout the day.
Stealing the Show at Parties:
Parties are the perfect opportunity to experiment with your style and make a memorable entrance. Wigs and hair extensions allow you to effortlessly switch up your look, making a statement at any event. From sleek and straight to bouncy curls or vibrant colors, you can choose a wig or hair extensions that perfectly complement your outfit and mood. Be the center of attention with a chic bob, a glamorous Hollywood wave, or a head-turning ponytail.
Adding Glamour to Formal Events:
Formal events such as galas, award ceremonies, and black-tie affairs call for sophisticated and elegant hairstyles. Wigs and hair extensions can help you achieve those red carpet-worthy looks. Create intricate updos, add voluminous twists, or opt for long, flowing locks that exude timeless elegance. With the right wig or hair extensions, you can effortlessly elevate your style and stand out from the crowd.
Choosing the Perfect Wig or Hair Extensions:
When selecting a wig or hair extensions for a special occasion, it's important to consider your desired style, color, and quality. Visit a reputable wig shop or consult with a professional stylist who can guide you in finding the right match for your needs. Take into account factors such as hair texture, length, and the occasion itself to ensure a seamless and natural look that enhances your overall appearance.
Caring for Your Wig or Hair Extensions:
Proper care and maintenance are essential to prolonging the life and quality of your wigs and hair extensions. Follow the manufacturer's instructions for washing, styling, and storing your hairpieces to keep them looking their best. Regular brushing, gentle detangling, and using suitable hair products will help maintain their luster and integrity.
Wigs and hair extensions provide endless possibilities for creating stunning looks for special occasions. Whether you're a bride-to-be, a party-goer, or attending a formal event, these versatile accessories offer the freedom to experiment with different styles, lengths, and colors. By choosing the perfect wig or hair extensions and following proper care guidelines, you can confidently transform your hair and make a lasting impression at any special event. Embrace the magic of wigs and hair extensions and let your style shine!