Kinky Straight Clip-in Hair Extensions: What You Need To Know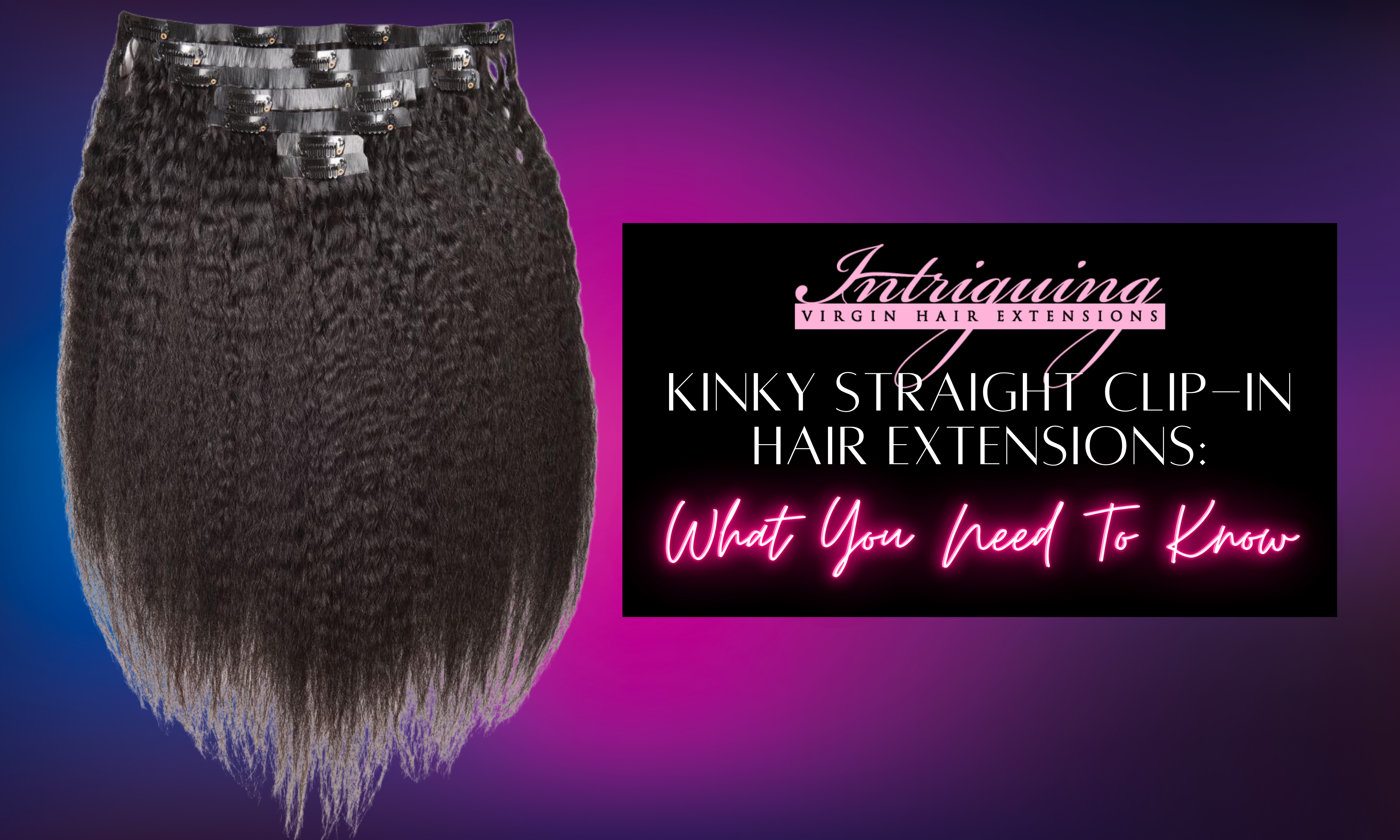 Hair extensions can transform your look completely, giving you added length, volume, and style. One of the most popular choices today is kinky straight clip-in hair extensions. 
But what exactly are they? How do they look and how do you take care of them? This blog post will help you find out!
What are Kinky Straight Clip-in Hair Extensions?
Kinky straight clip-in hair extensions are special types of hairpieces that are added to your natural hair to give it a fuller, longer look. They are called "kinky" because they have a specific texture that looks like natural hair. These extensions can easily be clipped onto your own hair, making it simple and quick to change your hairstyle any time you want.
How does Kinky Hair Look Like?
Kinky hair has a very distinct look. Imagine your hair having many tiny, zigzag patterns that create a rich, full, and voluminous appearance. This unique pattern gives kinky hair its beautiful texture, blends perfectly with natural hair, and gives it a wonderfully full and lively look.
Kinky hair is also incredibly versatile when it comes to styling. It can be worn in long, flowing locks or styled into various updos and braids. It's also a great option for those looking for a protective hairstyle that requires minimal maintenance.
Is Kinky Hair Human Hair?
Yes, kinky hair extensions are generally made from 100% human hair. This means they look and feel just like natural hair. Using human hair for extensions allows them to be styled, washed, and treated just like your real hair, making it a preferred choice for many people.
What Length is Kinky Straight Hair?
Kinky straight hair extensions come in different lengths to suit various preferences and styles. You can find them as short as 8 inches, going to 30 inches or more. The length you choose depends on your personal style and the look you want to achieve—some people like long, flowing hair, while others prefer a shorter, more manageable length.
Longer extensions are also more likely to tangle and require more maintenance, so it's important to consider your lifestyle when deciding on a length.
Shorter extensions are easier to manage and require less care, making them a great choice for busy lifestyles. For instance, if you're a busy professional who travels a lot, a shorter extension may be your best option as it will be easier to maintain and less prone to tangling.
How Do You Straighten Kinky Extensions?
Straightening kinky extensions is simple. You'll need a good quality flat iron and a heat protectant spray to protect the hair from damage. Firstly, apply the heat protectant spray evenly on the extensions. 
Next, set your flat iron to a moderate temperature, and then slowly and carefully straighten each section of the extensions. Always remember to do this gently to avoid harming your lovely extensions.
Can You Wash Kinky Hair Extensions?
Absolutely, you can wash kinky hair extensions just like you would your natural hair. Use mild shampoo and conditioner to keep them clean and nourished. It is recommended to wash them every 15 to 20 wears or when there is a buildup of products to ensure they remain fresh and vibrant.
Make sure you rinse them well and dry them with a clean towel. Detangle your hair after washing with a wide-tooth comb. When styling your extensions, don't use harsh chemicals or heat.
What is the Difference Between Kinky Hair and Curly Hair?
While both kinky and curly hair have textured patterns, they are quite different. Kinky hair has a more tight, zigzag pattern, which gives it a more voluminous look.
On the other hand, curly hair has more defined and looser curls. Understanding this difference helps choose the right hair extensions that match your natural hair texture.
Maintaining your clip-in hair extensions can significantly increase their lifespan, ensuring they remain as dazzling as the day you bought them.
Follow these maintenance tips to keep your kinky straight hair extensions looking great:
Store them Properly:

Proper storage is crucial to maintain your extensions' integrity. After each use, gently remove any tangles with a wide-tooth comb before storing them. Place them flat in a storage box designated for your extensions to prevent tangling. The storage area should be cool and dry to avoid moisture, which can lead to mold and a foul smell.

Regular Washing:

While keeping your extensions clean is essential, washing them too frequently can strip them of their natural oils, leaving them dry and brittle. Establish a washing routine that works for you, generally every 15 to 20 wears or if there is a noticeable buildup of products. Use lukewarm water and a sulfate-free shampoo to cleanse them gently. After washing, lay them flat on a towel and let them air dry naturally.

Use the Right Products:

Not all hair products suit hair extensions. Invest in products specially formulated for hair extensions, as these will nourish and protect your extensions without causing any damage. This includes using a heat-protectant spray when styling and a hydrating serum to keep them shiny and soft. Additionally, using a silk or satin pillowcase can prevent frizz and tangling as you sleep.

Gentle Styling:

When styling, always be gentle with your extensions. Use tools and accessories that are hair extension-friendly. Avoid pulling or tugging at the extensions, as this can weaken the clips and damage the hair strands. If you curl or straighten them, always do so at a lower heat setting to prevent drying and damage. And remember, when brushing, start from the ends and work your way up to prevent unnecessary pressure and pulling.
Follow these tips to maintain kinky straight clip-in hair extensions.
Conclusion
Kinky straight clip-in hair extensions are a fantastic choice for anyone looking to enhance their natural hair, offering a beautiful, natural look that is easy to maintain. Understanding the unique features and care routines for kinky straight hair will ensure you enjoy your extensions for a long time. Remember to choose the right length, understand the difference between kinky and curly hair, and follow maintenance tips for a glamorous look every time.
Enjoy hair styling!