Luxury Wigs 101: Comprehensive Guide to Selecting the Best Quality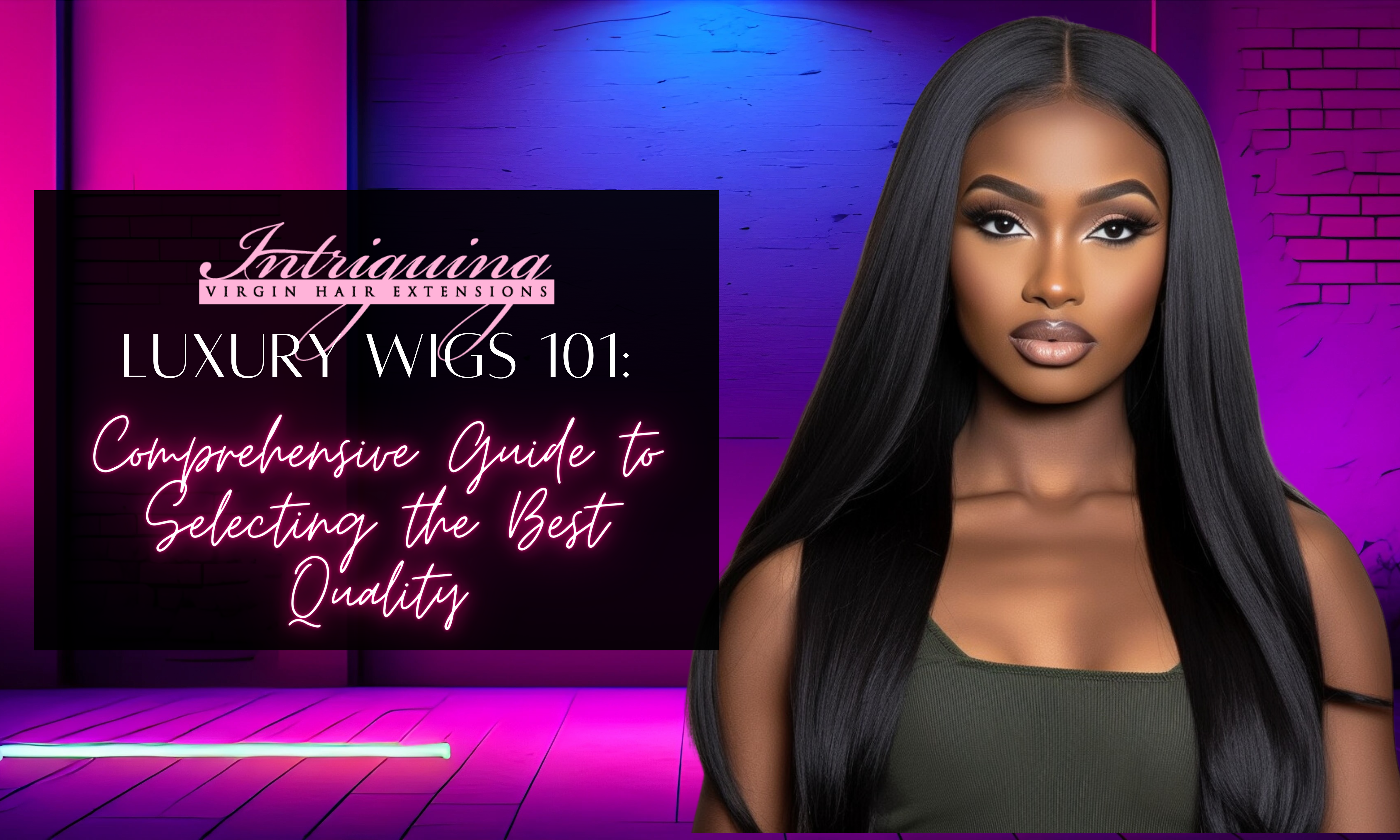 Luxury wigs are your ticket to a world filled with glamour, versatility, and effortless style! Dreaming of flaunting Brazilian straight locks today and stepping out with a Russian blonde bob tomorrow?
Well, you're in the right place!
Take a look at our guide and learn how to pick a wig that's not just high-quality but showcases your personality as well. If you're a wig novice or a pro looking to up your game, we've got the golden nuggets to help you. Get ready for a fabulous hair journey!
A List of Questions to Ask When Buying a Wig
Before you choose your dream luxury wig, you must ensure it meets all your needs. Here are the must-ask questions when wig shopping:
Is it made from human or synthetic hair?
What is the texture of the wig?
Does it allow for natural movements and styling?
Can it be dyed or heat-styled?
What is the lifespan of the wig?
All in all, it is important to consider all of these factors before purchasing a wig.
What Makes a Wig High-Quality?
High-quality wigs, like the Brazilian Straight Full Lace Wig or the Russian Blonde Full Lace Wig, offer an unmatched natural feel and versatility.
The superior grade of hair and the intricate craftsmanship in constructing the wig define its high quality.
Here are some features to look for:
Smooth and shiny appearance

– signifies healthy hair. Hair should flow freely and be easy to comb through. There should be no tangles or knots, and the texture should be even. The color should also be consistent throughout.

Minimum shedding

– a mark of strong construction. Hair should also have a lustrous sheen and be free from split ends. It should also be able to hold a style or hold its curl.

Natural movement

– ensuring the wig moves just like your natural hair. Lace front – for a natural-looking hairline and maximum realism. Adjustable straps – for a secure and comfortable fit. Breathability – for comfort and to ensure your scalp stays cool.
What Makes a Wig Expensive?
Just like premium artwork, an expensive wig, such as a custom wig, entails meticulous attention to detail and high-quality materials.
Here's why some wigs come with a higher price tag:
Rare materials

– including hard-to-find hair types or colors. Wigs made from rare materials, such as human hair, or those with intricate detailing, can be more expensive due to the extra labor and time-consuming process involved in producing them.

Hand-tied construction

– which takes a lot of time and skill. Hand-tied wigs require more labor to produce because they need to be hand-knotted. This process is not as efficient as machine-knotting, so it takes more time and skill. Additionally, rare materials, such as human hair, are also more expensive.

Additional features

– like a pre-plucked hairline for a more natural look. For instance, a hand-tied wig with a pre-plucked hairline can take up to 7 days to complete, while a wig with a machine-knotted hairline can take as little as 2 days.
How to Tell if a Wig is Good Quality
Spotting a top-quality wig isn't tough if you know what to look for.
Pay attention to:
Density and volume

– check for fullness without being too bulky. The texture should be soft without being too soft, and the material should be comfortable to wear. The color should be bright and vibrant, and the fit should be just right.

Hairline details

– natural-looking hairlines like those in the

Brazilian Bodywave Front Lace Wig

or

Russian Blonde Front Lace Wig

. The hairline should be seamless, with no obvious signs of glue or tape. The hairline should also be smooth and shiny, without any bumps or imperfections. The color should be consistent throughout the entire hairline.

Reviews and recommendations

– learn from others who have already bought the wig. Check the reviews of the wig online. Ask for recommendations from friends and family who have experience with wigs. Research different brands and read reviews about them.
Are Expensive Wigs Better?
While a hefty price tag often signals superior quality, it doesn't always mean it's your best choice. For instance, the U-Part Human Hair Wig offers a delightful blend of quality and affordability.
Personalized options

– Sometimes a less expensive wig can be customized to perfectly suit you. This ensures that you receive the exact length and style you desire.

Customization

can also include adding highlights or low-lights and adding bangs or layers. This makes it easier to find the perfect wig for you.

Functionality

– An expensive wig might offer features you do not really need. It is important to consider the cost of a wig, but also its functionality. A less expensive wig might be more suitable if it has the features you need. Additionally, a less expensive wig might be easier to repair and maintain in the long run.
Conclusion
This comprehensive guide will help you find the perfect luxury wig for you, no matter your needs or budget. With a variety of styles and colors to choose from, you can find the perfect wig for any occasion.
Whether you go for a Brazilian Deepwave Front Lace Wig or go all out with a custom wig, the best wig is the one that makes you feel fabulous and confident. You can get a vibrant and dynamic hairstyle with luxury wigs.
Make the most of your wig shopping journey by equipping yourself with wig knowledge. Get ready to turn heads and make a lasting impression!