All You Need to Know About Lace Frontals: From Selection to Maintenance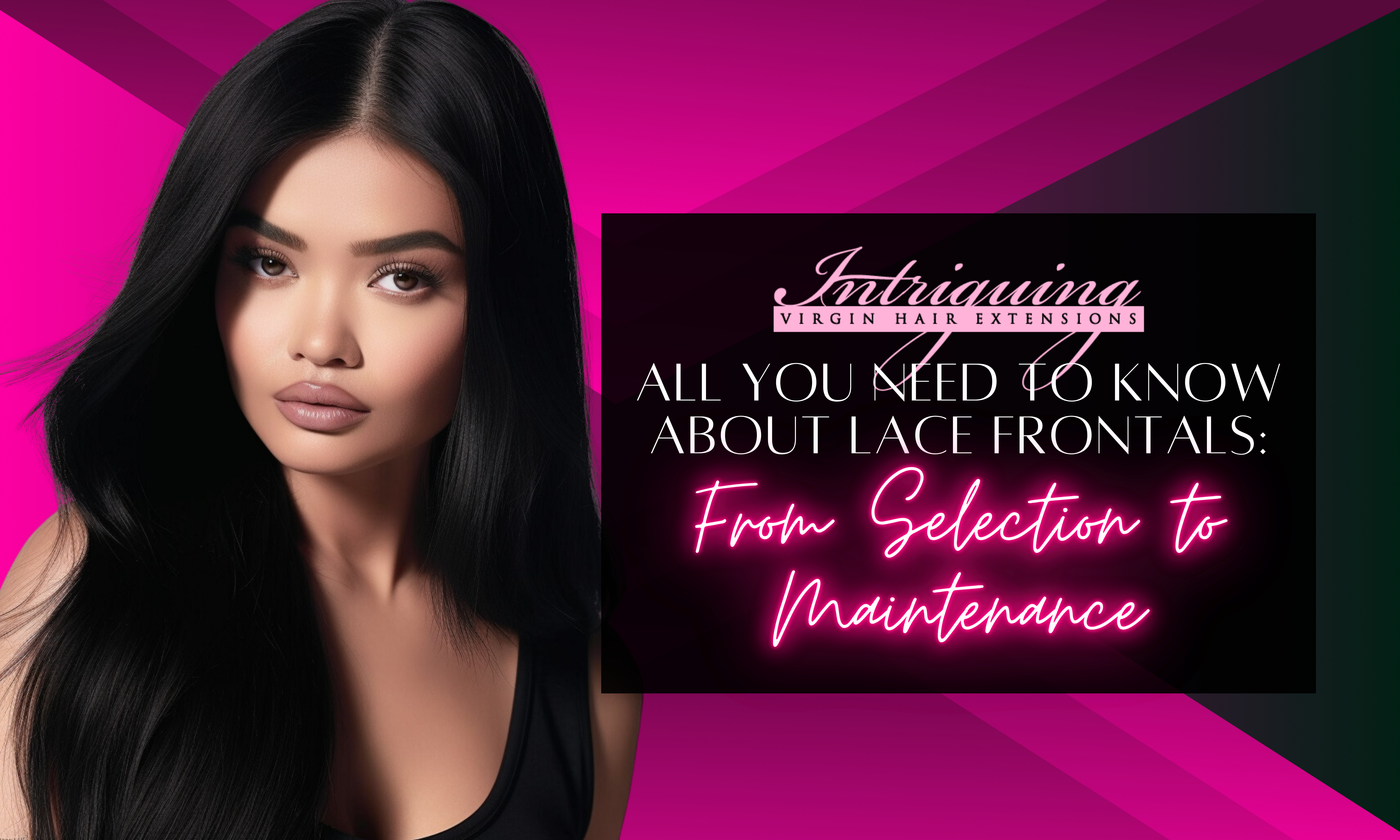 Are you thinking about getting a hair makeover? Lace frontals can be your ticket to versatility. Imagine walking around with a gorgeous, natural-looking mane that turns heads.
From choosing and maintaining them to styling tips, we'll discuss lace frontals in this blog. So, let's get started!
A lace frontal refers to a piece of hair extension where individual hair strands are attached to a lace base that covers the front part of your head from temple to temple.
It gives the illusion of a natural hairline, so you can style your hair however you want, including pulling it back into a ponytail, without revealing your flawless look.
It's ideal for people with thinning hair or wanting a fuller look. It's also perfect for those who like to rock different hairstyles, as it won't show any signs of a wig or extensions.
How to Choose the Right Lace Frontal for Your Skin Tone
Choosing the right shade that perfectly matches your skin tone is crucial to your lace frontal journey. With the right guidance, it is quite simple.
Start by noticing your undertones. Are they warm, cool, or neutral? Colors with warm undertones look great with golden and honey tones, while those with cool undertones look great with beige and brown.
You can't go wrong with transparent lace frontals if you want something incredibly natural. Because they're almost invisible, they're a great choice for everyone, and they can be tinted to match any skin tone.
Keep in mind that the goal is to blend seamlessly with your natural skin tone. Often, you'll have to do a little trial and error to find your perfect match, but once you do, it'll change your style forever.
When you're stuck, don't be afraid to ask for help. The experts can help you pick the perfect shade, guiding you to the mesmerizing world of lace front hairstyles.
Choosing the Right Color and Texture for Your Lace Frontal
Lace frontals are often overlooked for their color and texture. Frontals offer a seamless finish when they match your natural hair or desired look.
Color:

With lace frontals, you're not confined to your natural hair color. If you want a natural look, pick a shade that complements your skin tone or matches your roots. But who's to say you can't go bold with ombre, balayage, or even rainbow-colored strands? The possibilities are endless.

Texture:

Lace frontals come in a variety of textures – from silky straight to deep curly. While selecting based on trends is tempting, choosing a texture that closely resembles your natural hair is beneficial. This ensures that blending is easier, and the overall look feels authentic.
If you're shopping, look for descriptions like Brazilian straight, Russian blond, or HD lace frontal. If you're still not satisfied, get a custom wig.
Can You Install a Lace Frontal Yourself?
In some cases, it is possible to install a lace frontal by yourself, but hiring a professional is recommended.
Professional hairstylists have more experience and skill in installing the lace frontal properly and securely. They can also ensure a better fit and more natural look. Additionally, they can help you choose the right frontal size and style, as well as provide guidance on the care and maintenance of the frontal.
Also, they can recommend the best products and techniques to keep your frontal looking and feeling good.
What is better: full lace or lace front?
A lace front versus a full lace front is like choosing between an artist's palette: each has its own vibrant colors and potential masterpieces. Lace fronts are cheaper and faster to install than full lace, which offers complete coverage and the most styling options.
Transparent lace frontals are popular because they promise a natural look with a sheer lace base that blends with any skin tone. While full laces set no limits to your styling dreams, they're perfect for intricate styles and updos.
Is a lace frontal a wig?
Yes and no. A lace frontal can be part of a wig, offering a natural-looking hairline and the versatility to style the front part of your hair in any way you desire. However, a lace frontal is not a full wig by itself; it is often paired with bundles of hair extensions to create a full, voluminous look. So, you get the best of both worlds - the adaptability of wigs and the seamless integration of frontals.
How many times can you use a lace frontal?
Your favorite lace frontal is reusable! Lace frontals can usually be reused up to three times. Care and maintenance play a big role in the life expectancy. Taking care of your lace frontal will give it a natural finesse you can't find anywhere else.
How long should a lace frontal last?
With meticulous care and tender handling, a lace frontal can last anywhere between 6 to 12 months, sometimes even longer. The secret is maintaining it regularly with gentle cleaning and proper storage, ensuring it stays fresh and fabulous for your next styling adventure.
Lace frontals can shed after bleaching or over-bleaching the knots, affecting their longevity.
Making your lace frontal last involves a symphony of cleaning, conditioning, and storing. Use mild shampoos to cleanse and always detangle before washing to avoid shedding. When drying, avoid excessive heat to maintain the integrity of the transparent lace frontals.
Moreover, be gentle when styling and avoid pulling or tugging at the hair. This ensures that the delicate lace base remains intact for repeated use. Additionally, when it's resting time, store it in a cool, dry place, away from direct sunlight to retain its luxurious texture and sheen.
Conclusion
You can now step into the spotlight with a head-turning hairstyle. With lace frontals, you can bring your hair dreams to life, adding freshness and excitement to your style.
If you're trying to find the perfect lace frontal, check out HD Lace Frontals to find one that meets your style needs. Lace frontals aren't just hair accessories; they're a ticket to limitless style, grace, and vibrant self-expression!
So, are you ready for your next style sensation?