FREE SHIPPING FOR ORDERS OVER $299

INTRIGUING HAIR IS WITH CARE CREDIT!
Visit and check Intriguing Hair CareCredit by clicking the button below.
CareCredit Got You Covered!
The care you need, when you need it.

Use the CareCredit credit card to pay for your health, wellness and personal care needs.

Healthcare financing for you and your family. There's CareCredit For That™
See if you prequalify now for a credit card designed specifically for your health and wellness needs.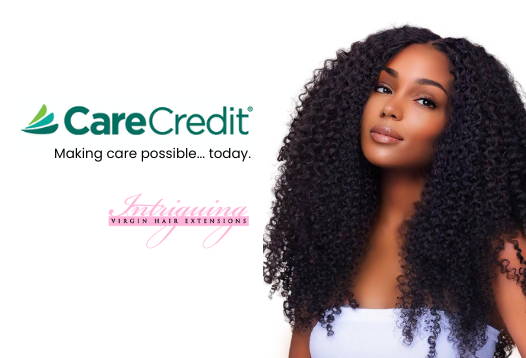 CARECREDIT GOT YOU COVERED
CareCredit is a healthcare credit card designed to help individuals pay for out-of-pocket medical expenses not covered by insurance, It can also be used for purchasing medical equipment and supplies, including medical wigs. If you need a medical wig, CareCredit can help by providing a financing option to cover the cost. Medical wigs, also known as cranial prostheses, are often needed by individuals experiencing hair loss due to medical conditions, such as cancer or alopecia.
TO USE CARECREDIT FOR PURCHASING A MEDICAL WIG, FOLLOW THESE STEPS:

1. Determine your eligibility: CareCredit requires that you have a decent credit score, usually above 600, to qualify for their credit card. You can check your credit score for free through various online services.
2. Apply for CareCredit: Visit the CareCredit website and complete their online application form. You'll need to provide personal information, such as your Social Security number and annual income. The application process is relatively quick, and you'll typically receive a decision within minutes.
3. Find a provider: Once you have your CareCredit account, search for medical wig providers who accept CareCredit as a form of payment. You can use the "Find a Location" tool on the CareCredit website to locate nearby providers.
4. Make a purchase: Choose a wig that meets your needs and preferences, and use your CareCredit card to pay for it. Keep in mind that CareCredit offers different promotional financing options, such as no interest if the balance is paid in full within the promotional period (6, 12, 18, or 24 months), or fixed monthly payments with reduced APR for 24, 36, 48, or 60 months.
5. Repay the balance: Make sure to repay the balance according to the terms of your financing plan to avoid interest charges or penalties.

By using CareCredit, you can finance the cost of a medical wig and make it more affordable by spreading the payments over time. Always be sure to read and understand the terms and conditions associated with any financing option before making a decision.