Businesses Hoping to Reopen Join Run on PPE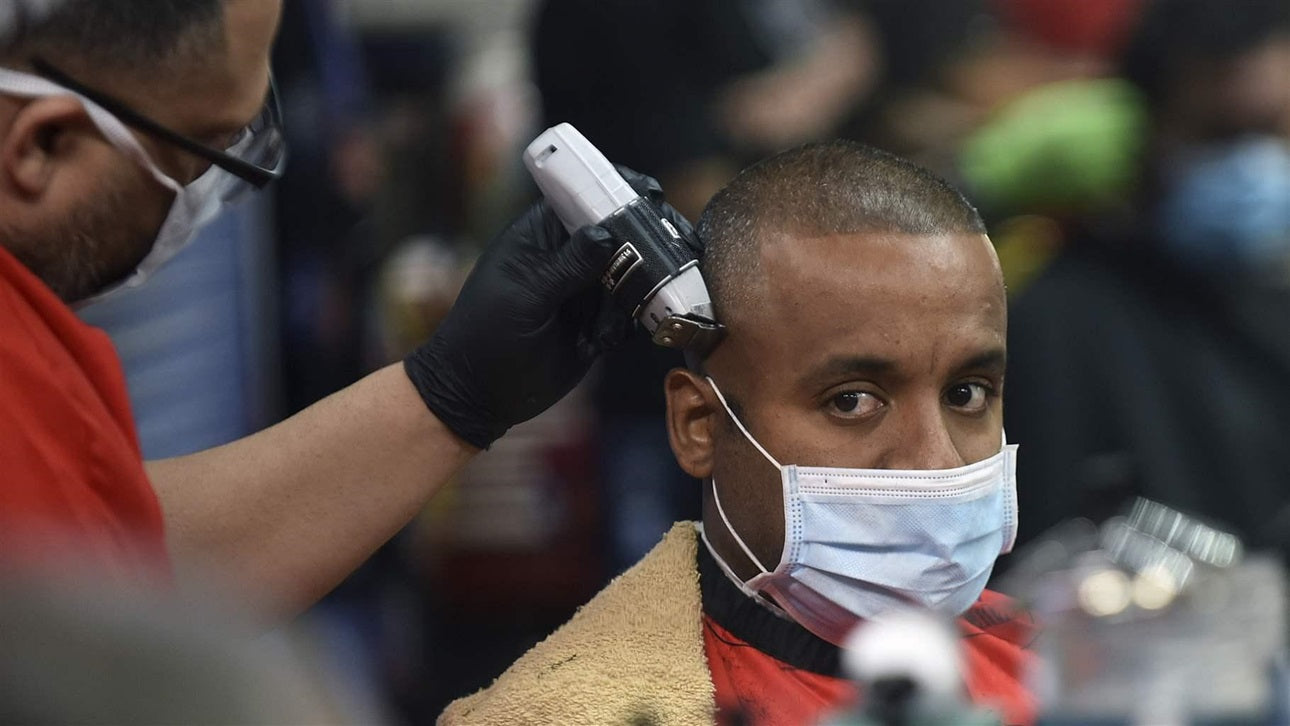 Barbershops like this one in Orlando, Florida, are some of the first businesses allowed to reopen as states lift restrictions across the country. Many businesses have struggled with finding protective supplies for their staff.
Read Stateline coverage of the latest state action on coronavirus.
Nikia Londy's employees are afraid to come back to work.
The owner of Intriguing Hair, a salon in Boston's Hyde Park neighborhood, thought her stylists would be eager to return. But they don't feel safe, she said.
Like other states, Massachusetts has released standards businesses must follow to reopen after two months of quarantine. Among the dozens of requirements, every employee at salons and barbershops must wear face masks and eye protection. Faced with choosing vendors despite knowing little about the equipment, Londy is struggling to procure this safety gear before reopening May 25.
"I don't even know where to get that," she said.
As every state gradually lifts coronavirus restrictions, employers are scrambling to get enough protective equipment to create a safe work environment. Buying safety equipment, however, has created additional challenges for businessowners, who may be unfamiliar with vendors and potential scammers.
Adding to that concern, a recent Washington Post-Ipsos poll found that nearly 6 in 10 Americans fear exposing their households to the novel coronavirus upon returning to work. Some states, such as Connecticut and Maine, have delayed reopening some businesses out of fear it might be too soon and dangerous.
Maine has allowed barbershops and hair salons to reopen across the state, requiring face masks and spread-out chairs. But that doesn't mean stylists were eager to get back to work.
Julia Perry, a Brunswick, Maine-based cosmetologist, has been frustrated with that state's plan to reopen. It is too soon, she said. It puts her health and the health of her clients at risk. She is still waiting to receive an order of surgical masks.
She has resisted beginning her services thus far. But if she doesn't start soon, she fears she will lose many of her 250 clients. "It's a real slap in the face," she said. "I don't think the state is taking us seriously. There's not enough testing. We feel like guinea pigs."
Given these hurdles, some states, counties and nonprofits have launched efforts to help businesses find and buy protective equipment.
All employers are required by federal law to identify potential hazards in the workplace and take steps necessary to protecting their employees, said Gina Fonte, a Boston-based senior counsel at international law firm Holland & Knight who focuses on workplace safety.
In the era of COVID-19, employers will have to pay even closer attention to those standards set by the U.S. Occupational Safety and Health Administration (OSHA), as the pandemic uniquely threatens workplaces across industries, she said. For example, office workplaces may require face masks and hand sanitizer now, which employers would be obligated by law to provide, she said.
That adds a hurdle for companies and employers, which now must source and buy personal protective equipment, known as PPE.
"The fact is that it's hard to find personal protective equipment and more people need it," Fonte said. "[COVID-19] certainly did create a lot of new PPE and safety requirements for employers and workplaces that might not have been prepared to deal with these issues."
Nationwide, workers already have filed thousands of COVID-19-related OSHA complaints during the pandemic. In Massachusetts alone, hundreds of essential workers filed federal complaints about their safety, including not being provided PPE and being forced to work in grocery stores, at medical facilities and for delivery services beside sick colleagues.
Until there is a vaccine, proven treatment or cure for the virus, there will be concern in the workplace about safety or potential exposure to the illness, Fonte said. Employers must balance a real desire to help the economy with the safety and health of their employees, she said.
States  such as Maryland saw an opportunity to help both small businesses buying  protective equipment and manufacturers selling it. The Old Line State earlier  this month launched a platform to connect businesses within the state,  vetting suppliers to make it easier for buyers.
"It  really created a way for the local community to find companies in the state to  fill those needs," said Michael Kelleher, executive director of the Maryland  Manufacturing Extension Partnership, a nonprofit that worked with the state's  Department of Commerce for this effort.
Similar  efforts are underway in Colorado, Kentucky and Pennsylvania.
Other  state and local governments are providing some safety equipment for free.
Luke  Bosso, chief of staff for the Indiana Economic Development Corporation, saw firsthand  how difficult it was for the state to get enough PPE to hospitals at the height  of the outbreak. If he was having a hard time buying 1 million masks,  negotiating with domestic and international vendors, surely small businesses  throughout the state were going to have trouble finding 10 masks, he thought.
Earlier  this month, the state launched an exchange for businesses with fewer than 150  employees to receive free bundles of nonmedical-grade face masks, hand  sanitizer and face shields.
"We  recognize this is really new for companies in the United States, to have their  employees wear masks and have hand sanitizer readily available," he said.  "Anytime you open a new supply chain, you're going to have some difficulty  procuring that stuff."
Ten  days into its effort, the state has provided packages of safety supplies to  20,000 local businesses. The state will keep its marketplace open until at  least mid-June, Bosso said, with the goal of serving 50,000 small businesses. The  state is using federal CARES Act dollars.
Similar  efforts are underway at local levels.
As  Orange County, Florida, planned for its Orlando-area businesses to reopen,  Danny Banks, the county's director of public safety, heard from many  businessowners who could not find masks and hand sanitizer for their employees.  Several of their workers, he heard, threatened not to come back unless they had  safety equipment.
Wary  of infection numbers going up, the county decided to procure the safety  supplies itself and provide them to businesses. In the past week, 100 county  employees, mobilized from various departments, moved 1.8 million masks and  225,000 small bottles of hand sanitizer to 12,000 local businesses, from  barbershops to nail salons to small grocery stores.
For  businesses that have struggled to pay rent or furloughed employees, the supplies  are like a shot in the arm, Banks said.
"We've  got an opportunity to help small businesses reopen," he said, "but we really  have a responsibility to help them reopen safely."
Employee  safety has been a top concern for Sheldon Lloyd, CEO and co-owner of  City Fresh Foods,  a Roxbury, Massachusetts-based caterer with 130 employees that hires from and  serves low-income communities in the Boston region.
At  the beginning of the outbreak, Lloyd could not get protective equipment for his  workers, who were packing food in close proximity and delivering 14,000 meals  door-to-door every day — sometimes to senior citizens, who are especially  susceptible to the virus. He made his own sanitizer, masks and wipes, while  also breaking up shifts to space people out and discontinuing office coffee to  cut down on staff interactions. 
Only  in recent weeks has he received some supplies from donations and the city of  Boston. His first order of face shields arrived last week.
Lloyd  worked every connection he had to get safety supplies, calling vendors, the  state and nonprofits. But everyone was in the same boat — there was a national  shortage. He wishes there had been a central location where he could have  sourced these materials from the beginning.
"It  was nerve-wracking," he said. "It was a very, very surreal experience — trying  not to kill myself or kill somebody else."
Lloyd  just signed up for Protect MA, a new online portal  that hopes to avoid many of the problems he faced over the past two months.  Launched by the nonprofit Black Economic Council of Massachusetts, the  initiative connects black- and Latino-owned suppliers of safety equipment with  other black- and Latino-owned businesses looking to reopen after a months-long  stay-at-home advisory.
Segun  Idowu, the council's executive director, said minority businesses in the Bay  State were hit particularly hard during quarantine, especially restaurants,  salons and gyms. A study by the Brookings Institution last month showed  that COVID-19 may disproportionately affect businesses owned by minorities and women because of existing economic  barriers.
And  now that businesses are reopening, many of Idowu's 300 member businesses are  attempting to find safety equipment through word of mouth.
"That  is no way to cover thousands and thousands of minority businesses that are  going to need this across the state," he said. "We know that it is important to  have a one-stop shop for this stuff."