Frontal Bob Wig 101: Your Complete Guide to Choice, Maintenance, and Styling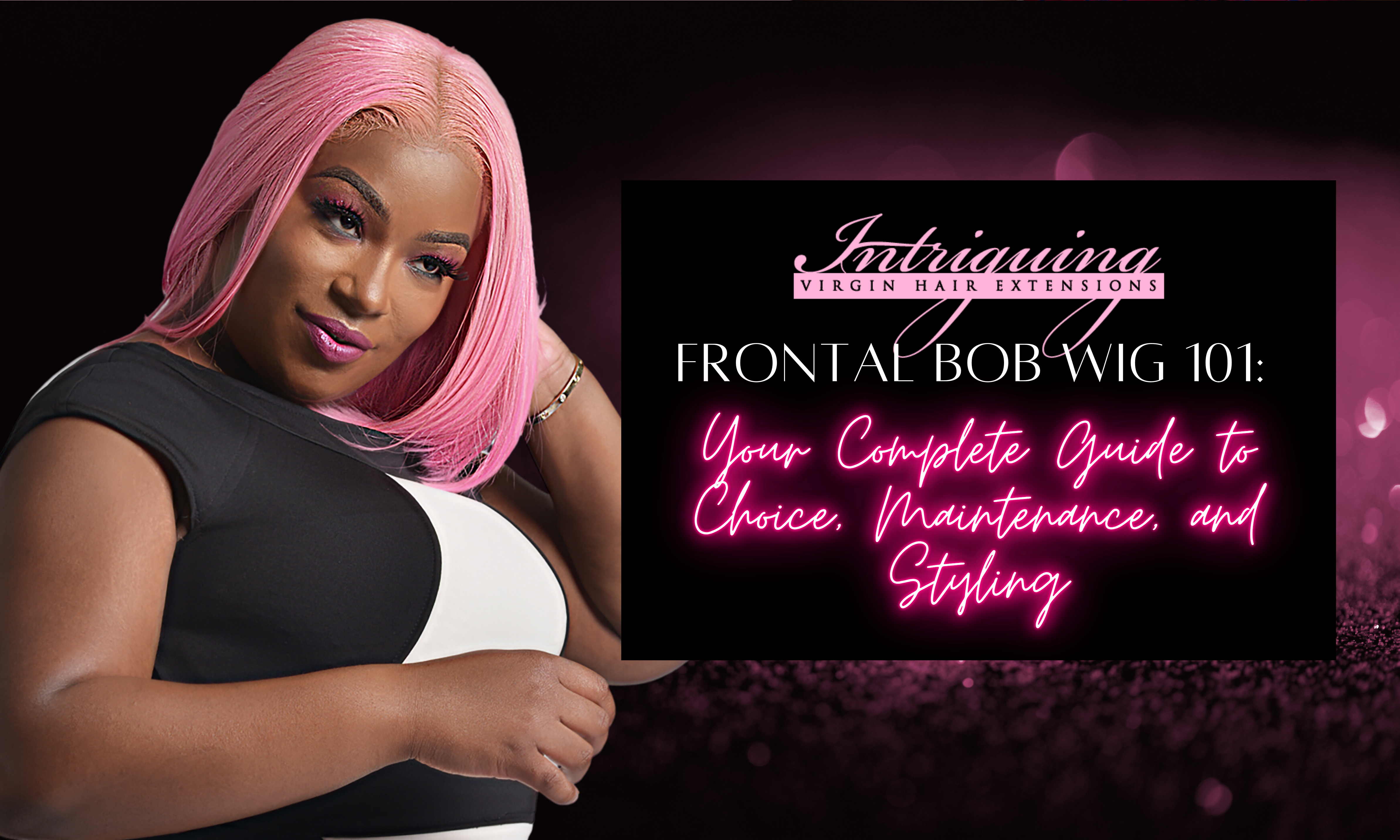 Transform your hairstyle with endless compliments and protect against bad hair days. That's awesome, huh? Well, it's not just a dream anymore!
You just need frontal bob wigs for hassle-free, stylish hair.
Here's what a bob wig can solve, its advantages, and the solutions it provides to keep you looking fabulous day in and day out.
A frontal bob wig is your go-to solution for a quick and dramatic transformation. It is a type of wig that covers the entire front part of your head, giving you a natural-looking hairline.
The bob cut, with its short, even length, adds a modern and chic touch to your look. It is like having a hairstyle power tool in your beauty toolbox!
It is the perfect solution for women who want short hair but don't have the time or patience to grow it out.
It's also a great way to experiment with different hairstyles without having to commit to a permanent change. Plus, it's easy to maintain and clean, so you'll look your best with minimal effort.
Why Choose a Frontal Bob Wig?
Frontal bob wigs aren't just about convenience, they're about getting a fresh, trendy look every day. With these wigs, you'll never have a bad hair day again. Furthermore, you get protection from the sun and dust with a bob wig.
The wig offers a plethora of styling options. Be it a classic professional look or a funky style for a party night, a frontal bob wig can morph into any style you desire. It's like having a canvas you can repaint any day or time!
Check out our FRONT LACE BOB WIG that perfectly fits your needs.
How to Choose the Perfect Frontal Bob Wig for Your Face Shape?
When it comes to frontal bob wigs, it's important to know which style will flatter your face. You can customize bob wigs to enhance your natural features beautifully.
For Oval Faces: Lucky you! Almost any style of bob wig will look absolutely stunning on you. Feel free to experiment with lengths, layers, and bangs.
For Round Faces: Opt for a bob wig that falls just below your chin to add length to your face. Soft waves can add a lovely dimension to your look.
For Square Faces: Choose a bob wig with soft layers to smooth out the sharp angles of your face, creating a harmonious balance.
For Heart-Shaped Faces: A bob wig that adds volume at the bottom will complement your face beautifully. You might try a curly bob wig to bring a playful vibe to your look.
For Long Faces: Go for a bob wig with a side parting to create an illusion of width. A bob that falls to your shoulders will look absolutely dazzling.
Knowing your face shape and choosing the right bob wig can help you look spectacular every day.
Synthetic vs. Human Hair Frontal Bob Wigs
If you're getting into frontal bob wigs, you'll need to choose between synthetic and human hair. You can tailor your choice to your needs, lifestyle, and budget by understanding what each brings to the table.
Whatever your priorities are, there's a wig to suit you.
What is a Closure vs. Frontal Bob?
Understanding the difference between a closure and a frontal bob is key to making an informed choice. A closure covers a smaller portion of your head, usually serving as a great tool to close a weave.
On the other hand, a frontal goes from ear to ear, giving more coverage and flexibility in styling. While both have their merits, a frontal bob wig steals the show when it comes to achieving a natural and fuller look.
How do You Maintain a Frontal Bob Wig?
It's important to take care of your frontal bob wig. Regular gentle washing is the secret sauce to elongating your wig's lifespan. Use sulfate-free shampoos to retain its freshness and always hydrate it with a good conditioner.
Drying is another vital step; pat it dry gently without rubbing to avoid tangles. Storage is the hero behind the curtains; store it on a wig stand to retain its shape.
Furthermore, styling your wig doesn't mean compromising its health. Always use heat protectants before styling and keep the temperature moderate to ensure your wig lives a long, beautiful life.
Tips and Tricks for Styling Your Frontal Bob Wig
With frontal bob wigs, you can create endless styles. However, your wig will truly shine if you follow some insider tips and tricks.
Creating Natural Edges: Use a small brush to lay down the edges of your wig, creating a seamless and natural-looking hairline that blends beautifully with your skin.
Experimenting with Colors: Don't limit yourself to natural hair colors. Feel free to explore a spectrum of colors, from bold reds to cool blues, to find one that resonates.
Accessorize: Adorn your bob wig with accessories like a wig cap, two-tone braiding hair, or crystal headband. They add a personal touch to your look and give you a fresh look every time you wear them.
Volume is Key: If you like voluminous hair, use a lightweight volumizing spray to add that extra oomph to your bob wig.
Change the Parting: Switch between the side and middle parts to change the look instantly. It is a simple trick that brings a noticeable change to your appearance.
What Else Do You Need to Know About Bob Wigs?
Apart from being a style icon, bob wigs are great for those who are experiencing hair thinning or loss. It gives them a confidence boost with a dash of style.
Also, remember to choose a wig that suits your face shape to elevate your natural beauty. There are endless choices, from curly to straight and from long bob to short bob, so feel free to express yourself!
Conclusion
Bob wigs aren't just for style; they're for everyday glamour. You're now ready to rock the frontal bob wig look with style and grace.
Put on your bob wig and get ready to turn heads with your new, effortless style. Well-chosen, well-maintained bob wigs are the key to endless style possibilities.