Why Full-Lace Human Hair Wigs Are Worth the Investment?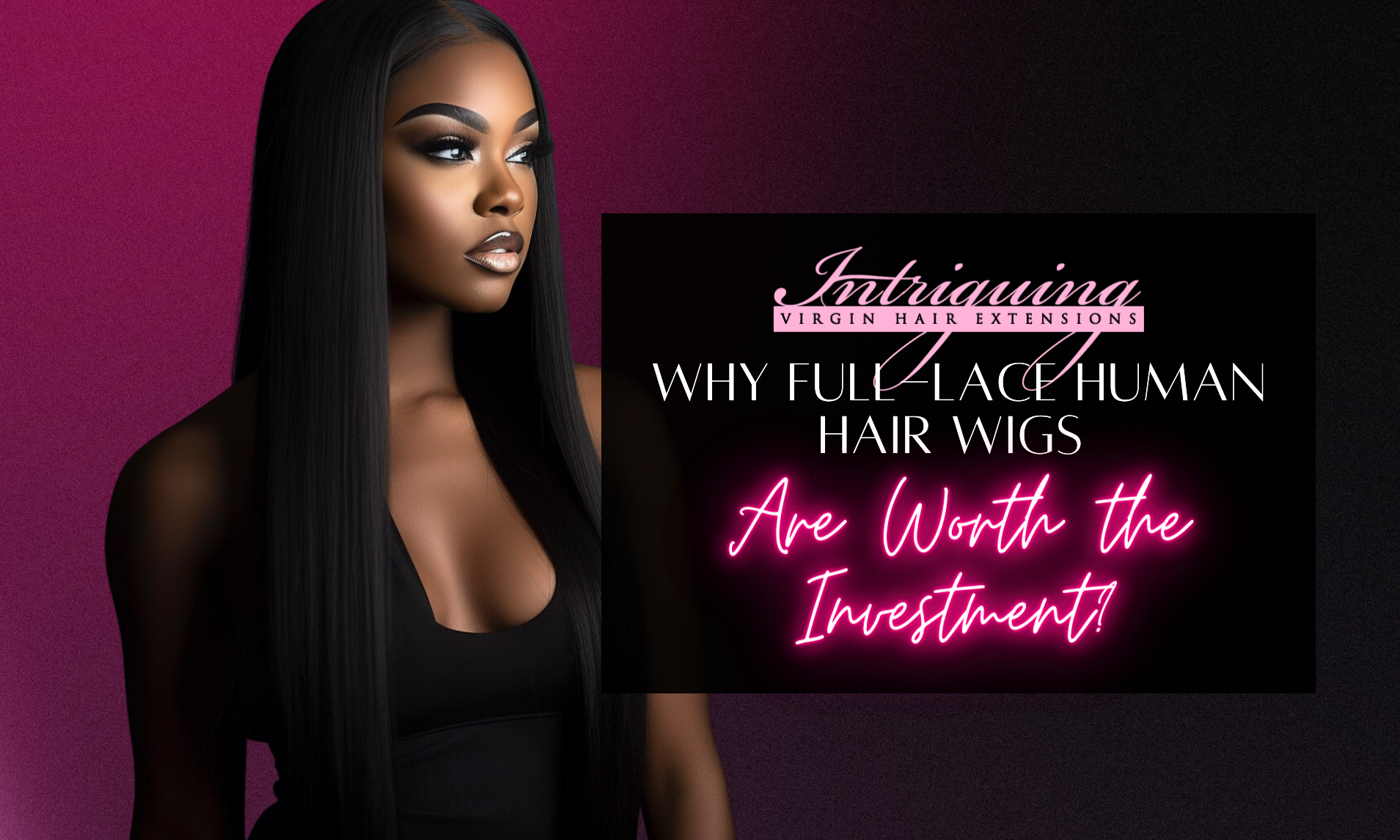 Ever wonder why full lace wigs are so popular? 100% human hair makes full lace human hair wigs look natural and realistic. Compared to other wig types, they're more durable.
The good thing about these wigs is that they're easy to care for and maintain. Today, we'll show you why they're a must-have in your wardrobe. Let's get started!
Imagine a wig that gives you a natural look while being super comfortable to wear all day. That's what a full-lace human hair wig is all about! These wigs are crafted with delicate lace covering the whole head, with individual hair strands tied to the lace, giving a natural and flowing appearance like your real hair.
The lace base is lightweight and breathable, so your scalp can breathe, and the hair is pre-styled and pre-curled, so you don't have to do anything to it. Plus, it's easy to maintain and style, so you can change your look whenever possible.
Our Exclusive Range of Full Lace Wigs
Here are our top three picks:
Brazilian Straight Full Lace Wig

: Perfect for sleek, straight hair lovers. It offers a timeless look that is both classy and easy to maintain.

Brazilian Bodywave Full Lace Wig

: If waves are your style, then this wig is for you. It adds volume and bounce to your hairstyle, giving a vibrant and lively appearance.

Russian Blonde Full Lace Wig

: Ever dreamed of blonde hair? This wig makes that dream come true with its gorgeous golden tones that promise a vibrant and fresh look.
Which is Better: Full Lace or Lace Front?
Full lace wigs offer more versatility than lace front wigs. This allows for styles that pull hair back from the face, creating a flawless hairline and natural look. With a full lace wig, the entire cap is made of lace, which allows users to part their hair in any direction and style it in any way they want. They can also customize the hairline by moving the lace around the perimeter of the wig, creating a perfect, natural-looking hairline.
On the other hand, lace front wigs are more affordable but offer a less natural look. When choosing, it depends on your preference for style flexibility and budget. Lace front wigs are best for people who don't want the full head of hair look but still want some natural-looking hair. They are also easier to style and can be parted more freely. However, they are typically less durable than full-lace wigs.
Quality comes at a price! Full lace wigs are a work of art, with each hair strand tied by hand to the lace cap, ensuring a natural look and comfortable wear. Moreover, they use high-quality human hair, promising longevity and the best appearance, justifying the price tag. It takes longer and more effort to make a full lace wig since each strand of hair has to be tied individually. As a result, they're more expensive, but ensure the wearer gets the best possible quality and appearance.
How Long Does a Full Lace Wig Last?
With proper care, these wigs can be your styling partner for 1 to 2 years. The high-quality human hair and excellent craftsmanship ensure a product that stands the test of time. The wigs are crafted with a sturdy base that can withstand daily styling and washing, and the hair is also treated with special chemicals to make it last longer. Regular care and maintenance will help to extend the life span of the wig.
What are the Benefits of a Full Lace Wig?
Natural Appearance

: They offer a perfectly natural look, allowing you to style them just like your real hair.

Comfort

: The light and breathable lace cap offers comfort for everyday wear.

Versatility

: Be it a ponytail or a bun, style it the way you want!
Can You Wear a Full Lace Wig Every Day?
Yes, you can! Thanks to their comfortable and breathable nature, these wigs can be worn daily without hassle. However, giving your scalp a break and taking the wig off at night is advised to maintain healthy natural hair underneath.
Wearing a wig every day can irritate your scalp and damage your roots. Take the wig off at night so your scalp can breathe and your hair can recover.
Definitely! Full lace wigs offer a virtually undetectable hairline, giving the illusion of hair growing directly from your scalp. This natural appearance is a big reason they are worth the investment. 
They are made with high-quality human hair that is stitched onto a breathable mesh cap. The hair is also attached to a lace base that matches your skin tone, providing a seamless blend with the rest of your scalp.
Pros and Cons of a Full Lace Wig
Pros:
Natural look

Versatility in styling

Comfortable for daily use
Cons:
Higher price point

Requires careful maintenance to ensure longevity
How Do You Maintain a Full Lace Wig?
Maintenance is key! Here are some tips for caring for your full lace wig:
Wash Carefully

: Use a sulfate-free shampoo and conditioner to wash your wig. Use lukewarm or cool water when washing. Avoid scrubbing too hard, and use a wig cap to help retain moisture.

Avoid Heat

: Minimize heated styling tools to maintain hair's natural texture.

Store Properly

: Always store it on a wig stand to retain its shape.

Keep it Away from Moisture:

Keep your wig away from moisture sources such as swimming pools and hot tubs.
Conclusion
You are unlikely to regret investing in a full-lace human hair wig. Offering unparalleled natural appearance, comfort, and styling versatility, it stands tall as a champion in the wig industry.
Whether switching up your style or looking for a daily wear wig that doesn't compromise the look, full lace wigs emerge as a clear winner.
It's not just a wig, it's an investment in your style and confidence. You deserve nothing but the best, so go for a full lace human hair wig!