A Beginner's Guide to Collaborating with Hair Extension Suppliers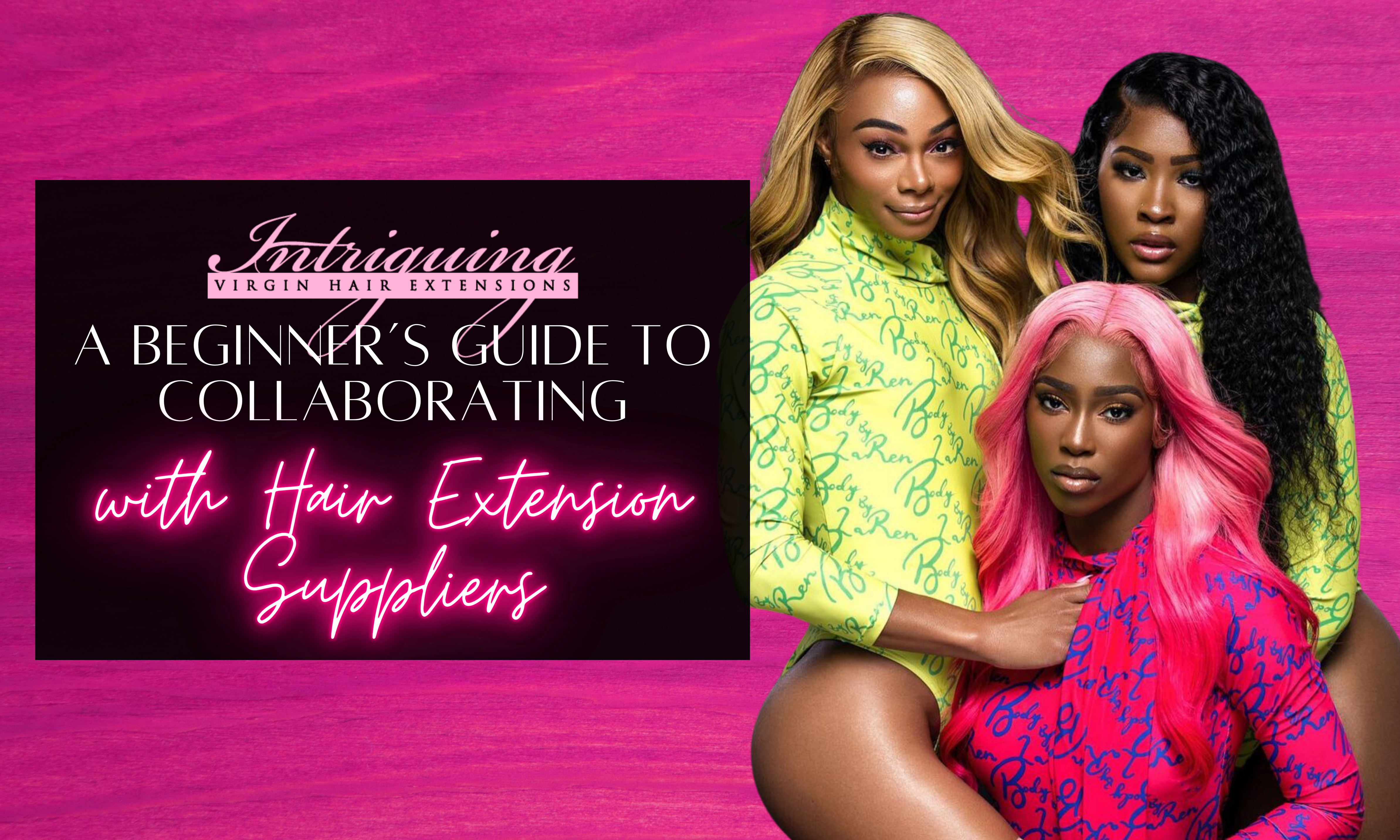 If you're a budding hairstylist, salon owner, or an individual looking to start your own hair extension company, connecting with the right hair extension supplier is your golden ticket.
With the right supplier, you can access a wide variety of high-quality extensions, get advice on selecting the right type and color, and receive technical support should you need it.
We'll help you untangle the knots and hand you the keys to a successful hair extension collaboration.
Understanding Different Types of Hair Extensions
There are a lot of options available when it comes to hair extensions for beginners. To help you understand hair extensions, here's a simple guide:
Ease of Use

: These are user-friendly, allowing you to clip them in and out yourself.

Temporary

: Ideal for occasional use as they can be removed daily.
Semi-permanent

: They last for 4 to 8 weeks and are a great option for a more lasting style without the long-term commitment.

Professional Assistance

: Installing these generally requires help from a professional stylist.
Sew-in Extensions/Weaves
:
Long-lasting

: These are sewn into braided natural hair and can last for several months.

Customizable

: Allows for versatile styling options.
Pre-bonded/Fusion Extensions
:
Permanent Solution

: These extensions are bonded to the natural hair using different adhesives like keratin.

Professional Installation

: Requires installation by a trained professional to ensure safety and proper application.
Complete Coverage

: Wigs cover the entire scalp and are excellent for people looking for a total transformation.

Convenient

: Easy to put on and take off, offering the utmost convenience.
When you know what kind of extension you need, you brainstorm questions.
What Questions Should I Ask a Raw Hair Vendor?
Prepare yourself with these questions before you shake hands with a raw hair vendor:
Where do you source your hair from?

What types of hair extensions do you offer?

Can you provide testimonials or reviews from other clients?

Do you offer samples for quality testing?

What are the payment terms?

How do you handle order delays or issues?

Can you custom-create hair extensions according to customer demands?

What is the minimum order quantity?

Do you offer any certifications to prove your products' quality?

How do you ensure ethical hair sourcing?

Can you help with branding and packaging?

Do you offer training or support to understand the products better?

How often do you update your collection?

What are the return and refund policies?

Can we visit your production facility?
Who Are the Biggest Consumers of Hair Extensions?
Hair extensions are popular among black women, women of all ethnicities experiencing medical hair loss,  young adults and celebrities eager to switch up their styles swiftly and without a fuss. 
Hair extensions are the darlings of fashion enthusiasts, bridal stylists, and individuals experiencing hair thinning or loss, offering them a fresh canvas to express their style.
What to Look for When Buying Hair Extensions?
Buying hair extensions for the first time can be daunting, especially with the many available options. Here's your detailed guide to making an informed purchase:
Quality

: Firstly, focus on the hair quality. You'd want extensions made from high-quality hair that blends well with your natural hair in terms of texture and color. Consider whether you want synthetic or human hair extensions, as they offer different benefits and come at different price points.

Ethical Sourcing

: Understand where the hair is coming from. Reputable suppliers source their hair ethically, respecting the individuals providing it and maintaining a high-quality standard. This ensures that you're buying a top-notch product that is cruelty-free.

Reviews and Testimonials

: Before making a purchase, always check the reviews and testimonials from other customers. Look for feedback on the quality of the hair, customer service, and the overall experience people had with that supplier.

Customization

: Your hair is unique, and it's great when you find a supplier who can offer customized solutions. This might include creating extensions that match your hair color perfectly or offering extensions with specific types of curls or waves.

Support and Training

: Especially for beginners, having a supplier that offers support and training is a huge bonus. They can guide you on how to properly care for your extensions, how to install them, and even how to style them to suit your look.
Researching and understanding these aspects can help you make an informed purchase that will enhance your natural hair beautifully.
How Do I Find a Hair Supplier?
Finding a trustworthy hair supplier is a critical step in your hair styling journey, especially if you are starting out. Here's a step-by-step guide to help you in this process:
Research Thoroughly

:
Online Forums

: Visit online forums and social media groups where you can find discussions and recommendations.

Blogs and YouTube

: Watch tutorials or read blogs where experts share their favorite suppliers.
Ask for Referrals
:
Networking

: Reach out to friends or acquaintances in the hairstyling industry for their go-to suppliers.
Sampling
:
Request Samples

: Don't hesitate to ask potential suppliers for samples to personally test the quality.

Feedback and Reviews

: Look for customer feedback on suppliers' websites or independent review platforms.
Visit the Suppliers
:
Facility Visits

: If feasible, visit the supplier's facilities to understand their operations and quality assurance processes.

Trade Shows

: Attend industry trade shows to meet various suppliers and experience their offerings firsthand.
Negotiate Terms
:
Pricing

: Clearly understand the pricing structure, including discounts for bulk orders.

Payment Terms

: Know the payment terms - how and when to pay.

Return Policy

: Learn about supplier return and refund policies to avoid future complications.
Follow these steps and you'll find a hair supplier who meets your needs and standards. Make sure your supplier aligns with your values and quality expectations.
How to Start a Hair Extension Supplier Business?
Dreaming of setting up your own business in the booming hair extension industry? Here's your step-by-step guide to starting:
Research the Market

: Understand the existing market dynamics, trends, and consumer preferences.

Find Reliable Sources

: Establish ties with trustworthy hair sources, ensuring quality and ethical sourcing.

Business Plan

: Craft a solid business plan outlining your business goals, strategies, and financial projections.

Branding

: Build a robust brand with a clear vision, mission, and a memorable logo.

Legalities

: Fulfill all legal requirements, including business registration and adhering to health and safety standards.

Build a Team

: Assemble a team of passionate individuals who share your vision.

Launch

: With everything in place, launch your business with a bang, reaching out to potential clients through marketing and promotions.
Conclusion
You'll have a blast exploring the world of hair extension supplies. The right knowledge and a spirit of inquiry will help you form successful collaborations with hair extension suppliers.
So go ahead, ask those questions, and start your journey to beauty, style, and endless possibilities. Remember, every strand counts!