Clip-In Hair Extensions Guide: Everything You Need to Know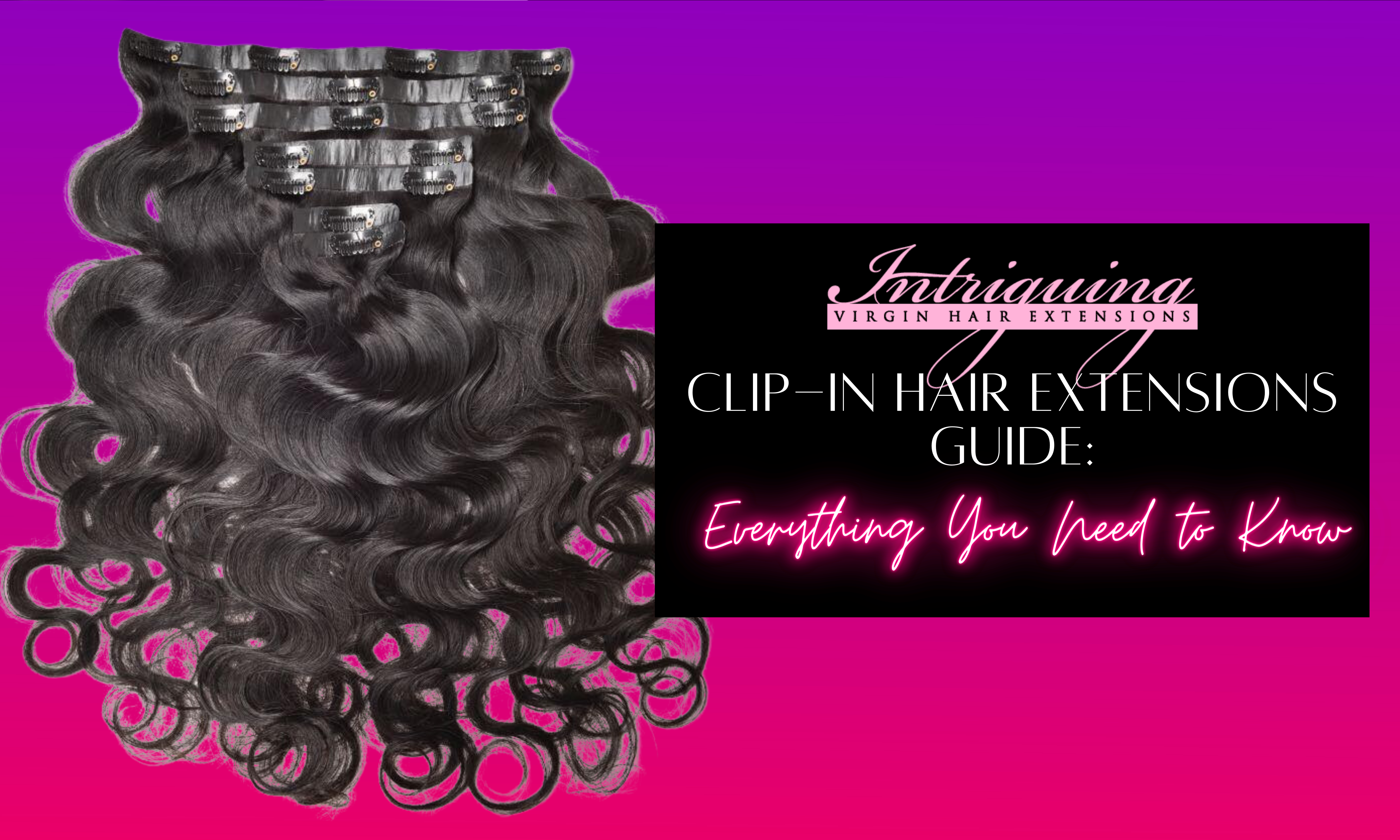 Did you ever scroll through pictures of celebrities and wish your hair was as thick, luscious, and long? It's not just you. It's a common craving to want to switch up our hairstyle without making a permanent change.
Well, guess what?
You can get the magic wand with clip-in hair extensions! Explore our comprehensive guide to clip-in hair extensions and see how they can be your hairstyling best friend, offering versatility and glamour with no damage.
Clip-in extensions are lengths of hair, natural or synthetic, attached to clips that can easily be fixed into your hair. They are the perfect quick solution to switching up your hairstyle without making a permanent change.
Clip-in extensions are easy to use, and you can get a full head of hair in a matter of minutes. They are also reusable, so you can change your look whenever you want.
What are clip-in hair extensions called?
Apart from being called "clip-in extensions," they might be called "clip-in wefts." But no matter the name, their magic to the hair styling table remains the same.
Check out our Kinky straight clip-in extensions. An extension with a specific texture blends beautifully with many natural hair types, making it look flawless and natural.
How to put in clip-in extensions for thin hair?
Even if you have thin hair, you can totally rock clip-in extensions! Here's a super easy guide for you:
Prep Your Hair

: Start with dry, tangle-free hair.

Section Your Hair

: Divide your hair into sections. Create a horizontal part across your scalp and clip the top section of your hair up.

Position the Extensions

: Start at the bottom of your head and work your way up. Place the middle clip of the extension at the center of the sectioned part and snap it closed.

Secure the Sides

: Next, snap the side clips into place.

Blend It In

: Let down the top section of your hair and blend it with the extensions using a brush or fingers.
That's it! You have successfully added glorious volume to your thin hair.
Compared to other types of extensions, clip-in extensions are less likely to damage your hair when used correctly. Clip-in extensions are temporary and easy to put in and take out. They don't require a lot of tools or professional help, making them a cost-effective way to change the look of your hair. In addition, they are more comfortable to wear than other extensions.
However, it's vital to give your real hair a break and not use extensions too frequently to maintain healthy, happy locks.
It is also a good idea to invest in a quality pair of clip-in extensions made from human hair. Synthetic hair extensions can cause damage to your hair and scalp, so it's essential to opt for the real thing.
Is it OK to sleep with clip-in extensions?
While you can sleep with your clip-in extensions in, it's generally not advised. Sleeping with them can cause both the extensions and your natural hair to tangle and break. Furthermore, sleeping with clip-in extensions can damage your natural roots and scalp. Irritation and scalp infections can result.
So, make it a nightly ritual to remove them to ensure they last longer and your real hair stays healthy.
Can I wear clip-in extensions every day?
Yes, you can, but remember, giving your natural hair a break is essential. Make sure you take proper care of your natural hair and extensions if you wish to use them daily. Regularly shampoo and condition your hair, and use natural oils to nourish it. Don't use harsh chemicals or styling tools that can damage your hair. Before going to bed, take your extensions out.
Can you shower with clip-ins?
Yes, you can! It might seem tempting to hop in the shower with your clip-ins after a long day. However, it's not the best idea. Showering with clip-in hair extensions can tangle them and reduce their lifespan. It can also strain your natural hair roots due to the added weight when wet.
The best practice? Remove your clip-ins before showering, ensuring they stay in tip-top shape for longer.
Clip-in Hair Extensions: Pros and Cons
Pros:
Easy to use and remove.

Leaves no residue.

Dries quickly.

Temporary and perfect for special occasions.

Available in various styles, colors, sizes and textures, including

kinky straight clip-in hair extensions

.
Cons:
Can cause damage if not used properly.

May not offer a permanent solution to your hair woes.
Clip-In Hair Extension Maintenance Tips for Beginners
You just took a big step into clip-in hair extensions! Isn't that exciting? But as with all great things, they come with responsibility. Don't fret – maintaining your new luscious locks is a breeze, and with just a few simple steps, they'll look fabulous. 
Here's how to keep them healthy:
Gentle Brushing:

Use a soft-bristle brush or a wide-tooth comb.

Start from the ends and work your way up to prevent tangling.

Washing Wisely:

Don't over-wash! Once every 15-20 wears or when there's product build-up is enough.

Use sulfate-free shampoo and lukewarm water.

Condition the ends to moisturize them.

Drying Do's:

Never wring out your extensions; it can damage the fibers.

Lay them flat on a towel and pat dry.

Always let them air dry. Avoid heat as much as possible.

Storing Safely:

Ensure they're dry before storing to prevent mold.

Store in a cool, dry place away from direct sunlight.

Keep them in their original packaging to keep their shape.

Less Heat, More Life:

If you must style with heat, keep the temperature low.

Use a heat-protective spray to shield the hair.

Avoid Heavy Products:

Heavy oils or serums can weigh them down.

Opt for lightweight products specially designed for extensions.
There you go! With just a sprinkle of care, you can keep your clip-in hair extensions looking as stunning as the day you first put them in.
Conclusion
You can achieve versatile and fabulous hairstyles with clip-in hair extensions. Now that you know what clip-in extensions are and how to use them, you're well versed in using them. It's important to remember that while they're quick and easy, your natural hair should always come first.
Feel confident to experiment and change your style effortlessly with clip-in hair extensions. Now, you can get stunning hairstyles at your fingertips. Have fun styling!